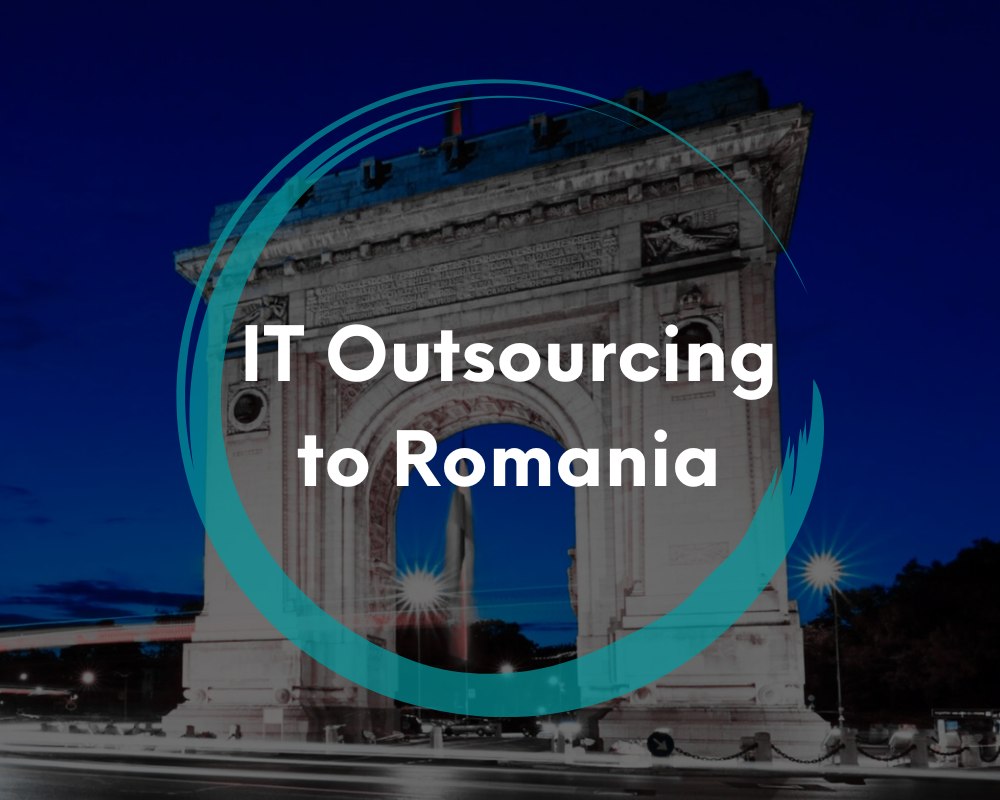 IT outsourcing – a practice that holds the answers to many of companies' current troubles, has become a go-to solution for businesses operating in various industries. More and more companies have been resorting to this approach, seeing that IT outsourcing manages to assist them in addressing talent shortage challenges, while, at the same time, allowing them to benefit from cost-efficiency and high-quality services.
One of the most popular destinations for IT outsourcing is Romania. A country that, over the past 15 years, has grown into a preferred location for companies that wish to develop innovative products and offer superior services to their clients, all while tapping into state-of-the-art solutions and skilled workforce. Major global companies have already chosen Romania, by opening business centres on its territory and continuing to run their operations here.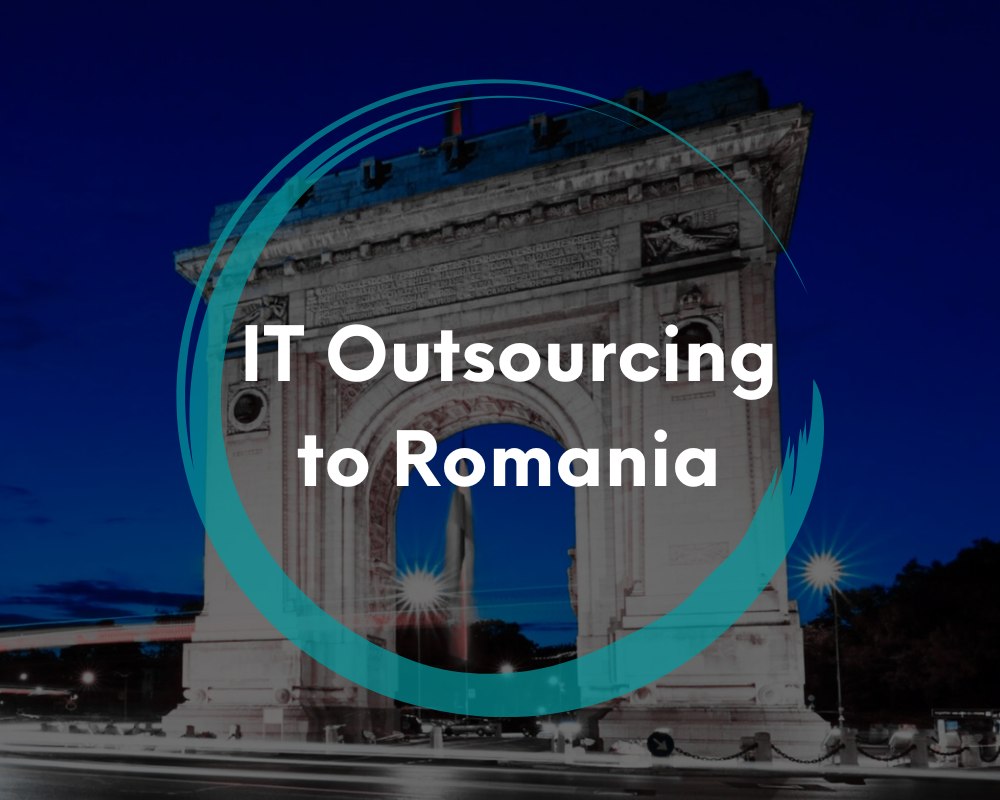 Due to aspects such as its strategic geographical location, great tax system, and big number of IT professionals with good language skills, Romania continues to rock the IT outsourcing landscape.
All you need to know about IT outsourcing to Romania
Geographical location
Romania is situated in the south-eastern part of Central Europe and is the twentieth largest country in Europe. The country is conveniently located in the GMT+2-time zone, being only a few-hours away with a direct flight from major European cities such as London, Prague, Paris, or Amsterdam. Moreover, since the country is part of the European Union, access to Romania does not require a visa when travelling from Europe.
Educational system and IT talent pool
The universities and colleges in Romania deliver around 30.000 engineers each year, of which many specialize in ICT, therefore enabling the country to offer a solid pool of talent. These universities conduct themselves in accordance with the highest academic standards, allowing students to benefit from excellent education and an effective learning environment. In terms of numbers, the latest reports have shown that there are 206 ICT students per 100,000 of population. Going further, Romania was placed on the 20th place amongst countries with the most skilful developers, according to ratings from Hackerrank.
Economic climate
Romania's economy has grown at a rapid pace, compared to other countries in the European Union, and in 2021, Romania was one of only 6 countries in the world that has seen an increase in GDP, which stands as witness to its economic stability. To this accomplishment, the export of software and IT services has contributed significantly, confirming that the software industry is one of the most important industries when it comes to Romania's economy. So, seeing that the IT&C services sector in the country is thriving, foreign companies continue to invest heavily in the field and positively impact the economy and the Romanian IT market.
Major IT hubs in Romania
Romania's IT hubs can be found in all parts of the country, from Bucharest and Craiova in the southern area, to Timisoara and Oradea in the west, Cluj-Napoca and Brasov in the centre, and Iasi in the north-east. Bucharest, the capital of Romania, hosts many well-known IT companies, and is one of the top 10 largest cities in the EU, being even named "the 2nd coolest city in Europe" by the French online magazine slate.fr. In 2020, the city was chosen as the home of the European Cybersecurity Competence Centre, which focuses on research on encryption and network security. All this while being preferred over other European cities such as Brussels, Luxembourg, Munich or Vilnius.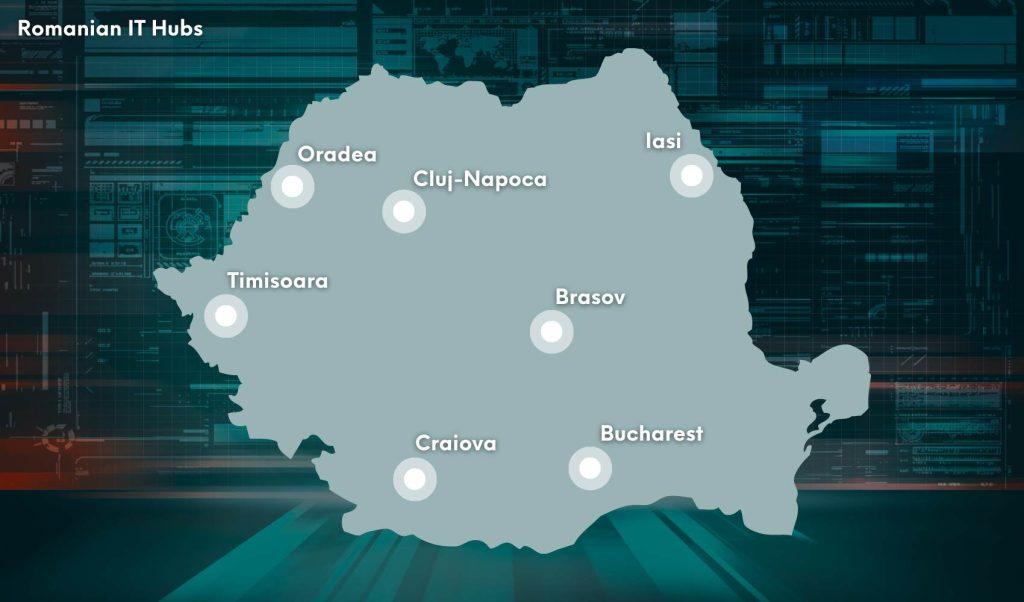 Preferred IT outsourcing destination for global players
Some of the largest companies in the world have decided to outsource their projects to Romania, as perks such as the excellent quality-price ratio that the country offers, have helped businesses to easily make up their mind regarding their IT outsourcing destination. Huge names such as Microsoft, Oracle, Samsung, IBM, or Google, have already entered the Romanian scene, opening and running technology development centres, group service centres, or R&D centres in cities such as Bucharest, Iasi, and Cluj-Napoca.
Western Culture and international exposure
Romania's workforce can easily adapt to Western European and US cultures alike. In this regard, Romania and countries located in Western Europe share similar values and way of life; to add to that, Romanian IT specialists have been known to easily adapt to other cultures, and quickly adjust to various situations, all as a result of their great soft skills and vast experience in working with global companies. Moreover, North American practices and cultural patterns, seem to have much in common with those in Eastern Europe, and therefore with Romanian mentalities and culture, which means that US companies are able to collaborate smoothly with their Romanian IT outsourcing partners.
Tech skills and industry specialization
Romania is home to over 200,000 ITC professionals, who collaborate with both national and international IT services companies. When it comes to their technical skills, Romanian IT specialists are familiar with a variety of programming languages, of which will we only be mentioning Java, C#, HTML, JavaScript, CSS, Python, DevOps, Angular, or React. Domains such as those revolving around Natural Language Processing, Machine Learning, cloud technologies, Computer Vision or cybersecurity have also seen an increased interest from experts.
However, there is one field that Romanian IT specialists seem to have been focusing more on over the last few years, and that is artificial intelligence. In this regard, important advancements have been made in the AI solutions sphere, Romania offering a favourable environment that supports such innovations. Furthermore, AIRomania (Artificial Intelligence in Romania) and ARIA Romania (Romanian Association for Artificial Intelligence) have joined forces in order to encourage and help the Romanian AI community thrive. As a result, specialists, researchers and students on one hand and IT companies on the other, have come together and have begun to channel their passion for AI into positive change.
Other examples of how Romanian IT specialists' tech skills have shined through and have been put to good use, are those represented by true success stories, like those surrounding UiPath and BitDefender, that are just a couple of the Romanian players that have gone global.
When it comes to industry specialization, studies conducted by SourceSeek have shown that the software development outsourcing companies activating in Romania, have primarily directed their attention towards the healthcare, banking, and security related sectors. However, more recently, Romanian IT outsourcing companies have begun to focus on the ecommerce domain as well.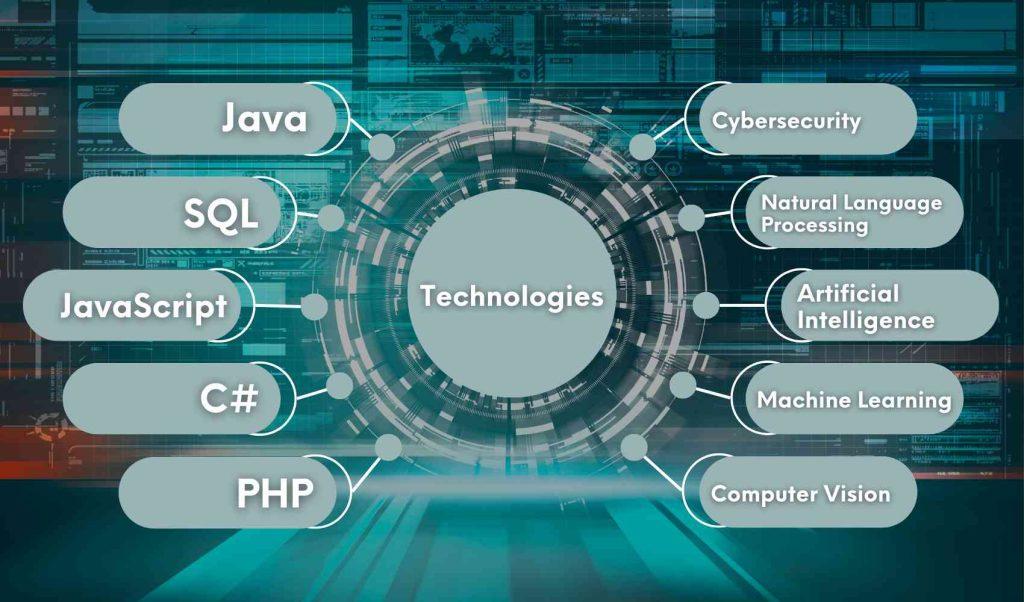 Why IT Outsourcing to Romania?
Vast tech expertise
Romania is leading Europe in technology workers per capita and ranks 6th in the world, when it comes to the number of certified IT professionals. And these numbers are constantly growing, but more important than quantity, is the quality, that comes in the form of great tech expertise that Romanian IT specialists are widely known for. Besides programming languages like JavaScript, Java, SQL, PHP, and C#, that are most popular throughout the country's IT scene, Romanian IT specialists do not shy away from even the most disruptive technologies, such as machine learning, data analytics or artificial intelligence.
Experience working with global companies
Long-term working relationships, partnerships based on trust, open communication and transparency, are some of the elements that one would easily find in Romania. And that's because the country's IT companies and specialists already have a vast experience in working with companies from all around the world. This background, along with the dedication and passion for technology that Romanian IT specialists possess, create the foundation needed for a successful IT outsourcing partnership.
Great network infrastructure
Romania has a great network infrastructure, being ranked as the 4th country in the world regarding high speed broadband Internet connection, according to the FUTURE OF IT REPORT 2022 – tech emerging Europe advocates. What's more, in terms of connectivity, Romania has scored the highest, as indicated by the same report. The report also shows that the country's business environment is thriving, having been positively assessed in regards to aspects surrounding intellectual property, cyber security and support for industry development, which represents an important advantage of IT outsourcing to Romania.
Local laws stimulate the development of the IT businesses
In Romania, there are local laws which stimulate the development of IT businesses; for example, there is a 100% exemption on income tax for IT employees, and a 50% tax deduction for R&D-related operations costs. Therefore, it was only natural that such a friendly legal framework would encourage start-ups and would assist IT companies in their growth and development process. So, it is clear that the country's favourable business climate, that includes taxes at 16% for corporations, has provided all the necessary prerequisites, so that Romania's IT industry would flourish.
Advanced language skills
In Romania you will find amazing language skills, where more than 80% of IT professionals speak advanced English, without heavy accents, this being yet another reason why important multinational companies have established their global customer services operations in the local workforce. French, German, Spanish, Italian and Russian are other languages widely spread in the fields of IT and customer support, which only reaffirms that Romanian software developers are capable of learning and speaking foreign languages with ease, making IT outsourcing to Romania all the more appealing.
Affordable rates
In terms of IT outsourcing rates, Romania has the upper hand yet again, as the country offers a hard to beat excellent quality-price ratio. With IT outsourcing average rates ranging from 50 to 70 dollars per hour, Romania remains one of the most affordable outsourcing destinations in Europe. And all of this while providing superior, top quality software development services, that meet the needs of clients who choose Romania as their IT outsourcing destination.
Romania likes long-term partnerships and stability
The tendency to prefer long-term partnerships is another aspect that sets Romania apart from the crowd, and the large number of companies that have delegated their projects to Romanian IT outsourcing companies for an extended period of time, stands as witness to this. Romanian outsourcing partners have the necessary experience that allows them to build successful partnerships, managing to gain the trust of their clients throughout their collaboration. Focusing on communication, along with promoting transparency and stability, are some of the ingredients that make up the country's outsourcing companies' recipe for a thriving, long-lasting partnership.
High quality services
Romanian IT developers are acknowledged for both their top-notch technical skills, as well as for their fine soft skills, assisting companies that outsource their IT projects to Romania, in delivering high-quality software products, that are in tune with the current trends. Furthermore, Romania's software development outsourcing companies represent mature partners that strive to find the best approach during every project that they have been assigned with, and achieve optimal results, that surpass the expectations of clients. By thoroughly analysing the latter's requirements, understanding each clients' goals and expectations, and providing superior solutions and support, Romanian outsourcing companies have solidified their position as some of the most reliable outsourcing partners, who have the ability to offer the finest services.
Romania has rightfully earned its place among the strongest competitors in the IT outsourcing arena. Its thriving economic and business climate, along with the country's superior educational system, vast IT talent pool, friendly tax framework, and the Romanian IT companies and specialists' international experience, have made Romania the complete package when it comes to IT outsourcing destinations. It is therefore no wonder that some of the world's largest companies have acknowledged that IT outsourcing to Romania is truly a wise decision, that allows businesses to reap difficult-to-beat advantages.